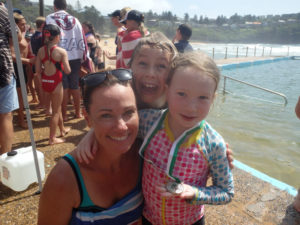 We compete against other swimming clubs throughout the season.
4 carnivals are held each year and are organised by WASA.
These carnivals consist of both handicapped rockpool events and indoor competitions. It gives our swimmers an opportunity to achieve their personal best.
WASA stands for Warringah Amateur Swimming Association. It is the association that is tasked with the development and promotion of swimming on the Northern Beaches in Sydney. 16 swimming clubs affiliated with WASA and during the season, hold District Championships and Peninsula Challenge meets at Warringah Aquatic Centre. They also hold one Handicap Meet at one of the Rock Pools. This meet is a particular favourite of our club and we look forward to this competition every year.
This season, NLASC has been participating in carnivals all over the peninsula and are really happy with our wee clubs achievements.
We have it on high authority that we are also the noisiest club and they certainly know when our swimmers are in the water.
Some pictures of past carnivals
WASA Carnival – 4pm Freshwater Rockpool 25th Jan 2014
What a great result for our club. Well done everyone who came and thank you so much for the way you encouraged all our swimmers. We may be small, but we do pack some presence. The relay and overall results have not been released.
Well done to all swimmers who made finals: Abby Emerson; Ashton, Kai, Koby and Peter Hampson; Claudia Schremmer; Anne and Helen Rutlidge; Deb and Lachlan Graham; Olivia and Steve Ramage; Sally Raymond; Amelia and James Thornthwaite. Congratulations to following swimmers for gaining a place:
| | | |
| --- | --- | --- |
| Swimmer | Place | Event |
| Ashton Hampson | 1st | 15M Freestyle Final |
| Koby Hampson | 1st | 50M Freestyle Final 1 |
| Lachlan Graham | 1st | 50M Freestyle Final 5 |
| Amelia Thornthwaite | 2nd | 25M Freestyle Final |
| Debra Graham | 2nd | 50M BBB Final 1 |
| Claudia Schremmer | 2nd | 50M BBB Final 2 |
| Peter Hampson | 2nd | 50M BBB Final 5 |
U14s Challenge – 30th Nov 2013
The first of two U14s Challenge was held on Saturday 30th November 2013 at the Warringah Aquatic Centre at 5pm. Our team was small but noisy, and we did well against the bigger squad based teams. Well done to Abby, Daniella, Teagan, Koby and Kai who all smashed their PBs.
Jenny Oates Championship – 3rd Dec
Once again NLASC had a successful and fun event. Congratulations to Jonathan Marsh for winning 14yrs age champion!!!!!! Thank you to all members who attended!
We were very proud because we are the smallest club to participate in these events and we always do well. There were 9 other clubs competing: Terrey Hills Swim Club, Freshwater Asc, Manly SC, Avalon Bilgola Asc, Curl Curl Asc, WRAQ, Narrabeen Lakes Asc, Collaroy and Manly Jetz Swim Club. We came7th overall.
Also thank you to Mal and Mike for volunteering as timekeepers and Alan who was the resident announcer for the evening (with some lovely assistance from Deb).
We placed really well and had lots of 4th places however here are the medal
winners:
Swimmer
Place
Jonathan Marsh
1st Boys 14yrs 50m Breastroke
1st Boys 14yrs 50m Butterfly
1st Boys 14yrs 50m Backstroke
1st Boys 14yrs 100m Breastroke
3rd Boys 50m Freestyle
Lachlan Graham
1st Boys 14 yrs 50m Freestyle
2nd Boys 14 yrs 50m Breastroke
2nd Boys 14 yrs 50m Butterfly
2nd Boys 14 yrs 100m Breastroke
Deb Graham
2nd 30 & Over 50m Breaststroke
2nd 30 & Over 50mFreestyle
Nick Marsh
2nd Boys 13yrs 50m Freestyle
This was a great indoor carnival held up at the Warringah Aquatic Centre and felt very professional with fast suits, touch pads and a huge scoreboard. Thanks again to WASA for a great night, 60 races was quite an achievement.
WASA Rockpool Carnival – 27th Jan
At the end of January the club competed in the annual WASA Rockpool Carnival. This was a very successful carnival for our club. Congratulations to all swimmers who made finals, with the following swimmers gaining a place:
| | |
| --- | --- |
| Swimmer | Place |
| Teagan Boucher | 2nd 25M Freestyle Final |
| Ellis Raymond | 1st 50M Freestyle Final |
| Nick Marsh | 2nd 50M Freestyle Final |
| Rosie Ramage | 3rd 50M BBB Final |
| Sharri Boucher | 1st 50M Freestyle Final |